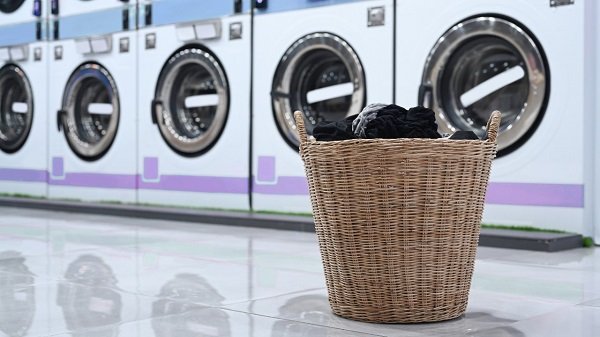 The commercial washing machine will be able to wash your clothing in a way that will minimize the energy and water costs. Many brands of commercial washing machines have more sophisticated technology and are designed for a larger number of people. Whether you're a small family or a large business, a commercial machine is a great choice. You can even purchase these machines for home use. Here coin operated washing machine  brands to choose from.
Dexter Laundry, Inc. has been a leader in the commercial and on-premise laundry industries since the company was founded more than a century ago. Today, their employee owned company offers a complete line of front loading washers, dryers and laundry management systems helping commercial laundry owners and on-premise laundry managers experience greater success. Headquartered in Fairfield, Iowa U.S.A. nearly 600 Dexter employees work to engineer, manufacture, sell and support their in class commercial and On-Premise Laundry (OPL) laundry products around the world.
Dexter Laundry began in the late 1800's and acquired its name from Dexter, a world champion race horse. The horse was the model for weather vanes seen on top of barns across the country and the subject for a famous Currier and Ives painting of Dexter driven by President Grant. As washing machines began to gain popularity, Dexter's founder decided that he could improve on the existing designs and capabilities and Dexter began building several hand-powered washer wringer models. Dexter's earliest hand and foot powered washers were made of wood slats bound together with metal bands. They had names such as the "Monarch" and the "Billy Twister", and sold for as little as $15.
Today, Dexter Laundry Equipment offers a complete line of coin, debit card and industrial/on-premise front-load washers and dryers. Their company reinvests millions into the laundry division every year to continuously refine quality while becoming more efficient and environmentally friendly and to lead the commercial laundry industry in incorporating new technologies into their products.
Maytag. For over 100 years, the name has stood for something that's as important today as it ever was: dependability. In fact, they have never strayed from a focus on better-built equipment that delivers remarkable reliability, day after day. They have also never been more serious about making sure every part—whether it's a door, drum or drive shaft—is up to the job.
Their roots go back more than a century with the Maytag appliance company, which gave the Maytag® Commercial Laundry brand its launch in 1956. Since then, they have been behind many industry firsts—including the only five-year all-parts warranty on coin-operated equipment—while continually expanding their product portfolio.
They now offer a full range of user-friendly Maytag commercial washer and dryer for the coin market. Recognizing the need to help save utility costs and natural resources, energy-efficient solutions are present throughout the lineup.
Continental commercial laundry products bring real-life solutions to a variety of industries and applications. Engineered for unrivaled performance, durability and ease-of-use, Continental washers, dryers, feeders and ironers work in concert to save energy and maximize throughput and production. They offer the largest breadth of laundry products and systems in the industry!
Girbau North America (GNA) delivers the total laundry solution to vended, on-premise commercial, multi-housing and industrial laundries throughout North America. As the provider of highly efficient batch tunnel washers, washer-extractors, drying tumblers, feeders, ironers, folders, stackers and related machinery, GNA serves the complete laundry production and efficiency needs of virtually any industry or application. Proven durable and reliable, GNA laundry systems are engineered for unrivaled productivity, efficiency, safety and ease of use. Backed by industry-leading warranties and unrivaled customer care.
Trusting Whirlpool for your commercial laundry needs might seem like a sure thing. After all, it's one of the most recognized names in the industry. But if you need convincing, consider this:
Whirlpool® washers and dryers offer energy-efficient equipment that saves money and builds profits
Outstanding features and quality at an exceptional value
Stylish designs to make your business or facilities attractive
Econ-O Light Duty is a brand offering washers and dryers for vended and on-premise laundries. Bringing efficiency and ease-of-use to its customers, Econ-O equipment is affordable and simple to install.
Engineered to cut utility usage for small loads, Econ-O-Wash coin-operated laundry uses less water than most home-style top load washers. The Econ-O-Wash commercial washer is constructed for for unmatched longevity and features a user-friendly control.
The Econ-O-Wash top load commercial card- or coin-operated washer is constructed for unmatched longevity. Washer features a durable porcelain enamel washtub, a scratch-resistant, hard-baked porcelain enamel top and lid, a heavy-duty, two-speed motor, and a corrosion-resistant polypropylene pump – all wrapped up in a rugged galvanized steel cabinet!
B&C Technologies exists to reduce your cost and improve your profits. Drawing from their vast experience in the laundry industry, B&C Technologies has developed a complete line of affordable and reliable laundry equipment to fit virtually any laundering operation. Although the company is relatively new, their engineers average over 20 years in the industry, and have designed many of the machines still available on the market today. Due to an outstanding design, low cost and outstanding reliability, B&C Technologies has grown into a market leader in just over a decade of business.
B&C Technologies also stocks a large selection of parts that directly fit onto existing laundry equipment, without the big price that the OEM's charge!  They pride themselves on excellent customer service and flexibility. Need a specific part?  They will do their good to find it for you. Contact them today to see how they can help you!
Before choosing a commercial washer You should read the manufacturer's manual thoroughly. The manufacturer's description will provide you with detailed instructions. This will help you decide which type of machine would work better for your business. You'll want to avoid using detergents that can harm the machine, as well as those that are too powdered or corrosive. In addition, you should regularly check the inlet and outlet hoses to prevent damages.
The above listed manufacturers were the best commercial washing machine brands in 2022. Check with AAdvantage Laundry Systems, Scott Equipment, Skyline Equipment known as the top laundry equipment supplier in the USA. Our goal is to connect you with the better in knowledge washing machine experts.